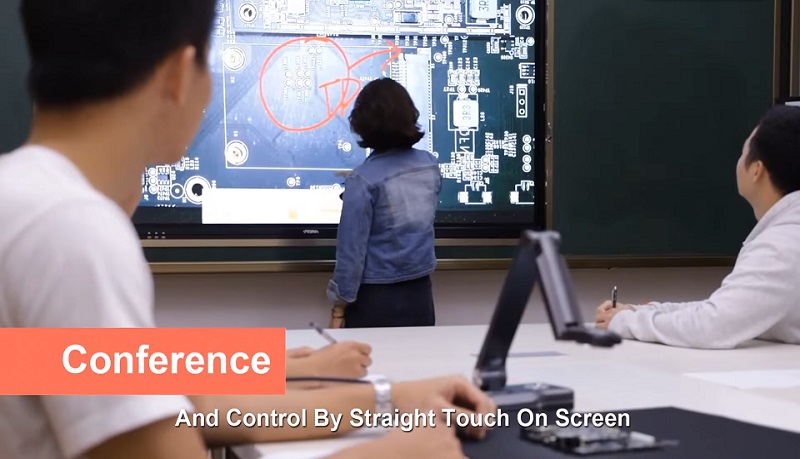 Are you tired of rotating your laptop during video conferences to display an item or document? Because laptop cameras have lesser resolutions, individuals on the other end of the video connection may struggle to see what you are showing. It's even harder when you are trying to teach students with a shorter attention span in a zoom class. Today, however, we have a solution to these issues. For classroom video calls or zoom calls, you can simply acquire a wireless document camera like the Joyusing V500W. But what is the Joyusing V500W? What is the mechanism behind it?
We'll learn about the features of the Joyusing V500W. We'll also look at why you should get a Joyusing V500W rather than a camera. For now, let us first start by answering the main question.
What is a Joyusing

V500W

?
The Joyusing V500W is a wireless document camera for classroom and meeting sessions. We can use it for scanning and live display of documents or other items. The pandemic has led many companies and schools to switch to online meetings and classes from working in the office and studying in school. The global decision was to ensure that the community was safe. It wasn't easy at first for people to adapt, but tools of working from home has benefited individuals, increasing employees' productivity. Whether you are commuting to work or teaching remotely, the Joyusing will come in handy. Teachers commonly use the Joyusing camera in class presentations and online learning. Employees can also use it for online presentations. You can create a direct connection to computer( (Win10/MacOS), Android Tablet/Android Phone by WiFi. It is convenient to use a V500W WiFi document camera anywhere and anytime, and to enjoy wireless freedom.
Product Description
Before we get into the uses of the Joyusing, let us first understand what makes it productive by learning about its features and abilities. The Joyusing is a flexible and multi-jointed camera that can move at different angles and heights. Some of the specifications include:
Why Should You Invest in Joyusing V500W?
Many people actively adapt to the WiFi doc camera in their education and working environments because of its advantages. It can be hard to convince the institution to provide the gadget for learning in places like schools. You can show them the following important to convince the institution: However, you can set aside some money for the gadget. Regardless, the following reasons are why you should invest in the device as a remote employee and teacher.
1. It Connects to Your Device Using WiFi
You don't have to connect to your monitor or laptop with cables. Through WiFi, the Joyusing V500W connects to any gadget like a monitor, laptop, phone, or projector. The Joyusing V500W transfers the image or live recording to your phone or monitor. The quality of the video or images will still be high and enable you to display them in detail.
2. Improves The Visibility and Flexibility
It cannot be easy to display a company's product or items to your student on a regular camera. Because the camera is not clear and adjusting, it is another hustle. The Joyusing V500W allows employees and teachers to place documents and objects for people to view on the other end. The camera displays in 8MP, clear enough for students and colleagues to zoom in and get a better view. The Joyusing V500W is also multi-jointed, so you can easily adjust to record or take a picture of your item or document.
3. It Makes Items More Accessible in Large Classrooms and Presentation Halls
It isn't easy to showcase one item to a class full of students. Also, people find it limiting to pass things to observe, and they need to pass them on to other people. Colleagues don't get enough time to examine the project or object through the presentation. So, having a Joyusing V500W will help you display a single item on the projector or multiple devices. The display is also in 3D to observe the thing in detail. That improved the engagement with your audience.
4. You Can Easily Carry Your Joyusing in Your Bag
The freedom of working remotely or teaching from home means that you can work from anywhere. The gadget does not require a direct power source for it to function. The Joyusing V500W is light, and you can fold it because of the multi-jointed body and carry it in your bag. Therefore, teachers can bring the joy of teaching to other classrooms. You can also work from anywhere, including restaurants or libraries with a close power source. As long as your laptop and Joyusing are charged, you are good to go.
5. Allows You to Create Instruction Videos
Is your career based on content creation? Buying a new camera, a stand, and a microphone can be costly. The Joyusing V500W will enable you to record high-quality video and take clear pictures. You can also record your YouTube video using the gadget since audiences are attracted to high-quality videos.
Teachers can also record videos using the Joyusing for class lessons or absent students on a particular day.

6. You Can Easily Scan Multiple Papers
It is safe to say that document scanners have eliminated the need for big scanning machines. In the past, you would have to walk to a store with a scanning machine or share a common machine at school or work. Nowadays, you can easily upload documents using Joyusing document camera to quickly scan and upload your documents, saving you more time when the scanning machines are in use.
You can also scan a document and display it to the entire class using a shared monitor or projector. On the other hand, you can scan multiple documents and share them with your students and colleagues through video. The other great thing is that the device offers the option of split screens, which makes it easy for you to display multiple pages or documents.
Generally, the camera allows you to improve the quality of learning in a class and the presentation quality. In the end, teachers, students, employees, and other students will benefit from the Joyusing V500W. The gadget can also save you a lot of technology costs for purchasing better webcams or cameras for high-quality display. It will also save you the cost of buying a scanner. With all these advantages, you can visit website to purchase the Joyusing if you are interested.
Enjoyed this article? You can also follow us JOYUSING on Medium.