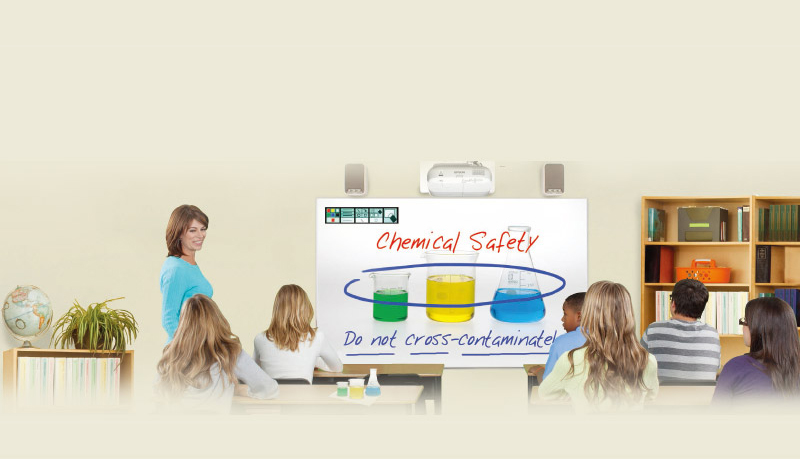 Even experienced teachers consider teaching English as a second language complex and overwhelming. It's challenging to assist everybody learns on the same basis because their classes are made up of students with varied English levels, many of whom may not speak any English.
Starting to learn by doing is one of the more appropriate instructional methods in this case. It would make it possible for students to connect to what is being discussed. Teachers would benefit from Joyusing document cameras because of their excellent picture quality and versatile design.
Document cameras could be used in a number of situations, such as :
· Universities or institutions
· Science research facilities
· Video broadcasting from afar
· During demonstrations
· Sessions of corporate training
· studios for broadcasting
Two Common Ways to utilize your Document Camera
So, here are some of the most typical ways that document cameras can be used in teaching:
1.Displaying Materials for Group Learning
Which means keeping your students engaged in displaying your instructional materials onto a vast screen or projector utilizing a document camera that allows them to see them directly from their chairs? Place the text underneath the document camera connected to a computer or projector, whether it's a short tale, poetry, news piece, music lyrics, or activity directions.
Then read it out to your learners, word by word. As they follow along, you may listen to their pronunciation and adjust them as needed. If you're teaching an advanced group, you can start by analyzing the text with your students by underlining and discussing key points.
2. Recording Instructional Videos
Enable the students to generate their learning content to make learning more enjoyable. You can do this by providing them a task to complete, such as making a self-introduction film, writing a fictional story, or explaining a natural phenomenon, and challenging them to create a short movie out of it. You can help them with research, screenwriting, and even line practices before the actual recording.
After that, please give them a document camera to record it. Learners can place the document camera at different elevations, rotations, and perspectives for capturing varied photos due to a swiveling camera head and multi-jointed stand. Brace to be blown away by their creativeness!
Available Models of Joyusing Document Camera
1. V1XS Document Camera
Special Features
· With a 12X optical zoom lens that can be adjusted
· Foldable design that can capture images up to A3 size.
· 1080P/60 fps video quality: ultra-smooth.
· It is simple to magnify a document or item by touching it.
· Control Interface, which was also shown on the 5" LCD screen.
Additional Features
Zoom Ratio: Total 120X t zoom: 10X Digital Zoom & 12X Lossless Optical Zoom
5" LCD Preview Display
An Lcd with a full user interface, image preview, and position can simply be produced.
LED Lights Built-In
Even in poorly illuminated environments, images with high clarity can be viewed.
Touch Button
Scratch-resistant protective screen with a delicate and fast response time.
2. V500S Document Camera
The V500s 8MP Document Camera captures the minor details of your documents in stunning high resolutions up to 3256*2240 without blurriness. With plug-and-play USB connectivity and a built-in microphone, you can take your lesson everywhere, at any time. V500S has been a popular sale, and economical document camera developed to match your needs, with built-in LED lights, auto-focus, and fantastic performance.
Special Features
· Setup is easy. Only a USB cable that is uncomplicated to use in everyday life
· Dual Mechanism hands with five movable joints gather materials from various altitudes and perspectives.
· It is possible to do so for portable use
· With an 8MP auto-focus lens, you can capture Ultra HD photographs.
· The shooting ranges from A3 to A4.
· Speech and video will be recorded simultaneously using the built-in microphone and 1080P HD pictures.
Additional Features
Focus Speed - Fast Auto
With little pauses, outstanding solutions for various material
Image Capture Area: Large
On the 420x297mm scope, more data may be seen.
3. V500W Document Camera
Thanks to its built-in power and wireless component, this V500W document camera can be brought everywhere. There is power for 6-8 hours. To operate V500W, push the power button, and afterward, connect. Wireless INternet /USB/HDMI/ VGA are four ways to connect a Chromebook, Android, PC, or Apple. Finally, to see the information and messages, launch the app.
Special Features
· Chromebook, Android, Personal computer, and Apple wireless connectivity
· 6 hours of continuous use with the built-in 7200mAh battery
· working without a battery
· HD photos in 1080P@30fps with silky smooth motion
· a live stream
· WIFI, USB, and HDMI are all compatible.
· Built-in software that does not require a computer
· SD/SDHC cards are supported as external memory.
Additional Features
Wireless Internet Access
It is possible to transmit real-time images anywhere in a room without the use of terminal equipment.
Power is built-in.
Built-in 7200mAh battery provides up to 6 hours of uninterrupted use without the need to charge.
Images with excellent clarity
8MP high-definition resolutions up to 3244x2440 are available for recording the tiniest details.
Dynamic Images with Silky Smoothness
The high quality of 1080P/30fps helps capture every detail in real-time.
4. V500 Document Camera
VGA and HDMI connections allowed the Joy-DocCam V500 to connect to various display devices.
For a more pleasant experience, appropriate layout and effective integration of physical buttons are offered. It produces 1080p RGB videos in excellent Definition but never misses a feature.
Special Features
· PC-free program built-in
· Digital zoom of 100 times
· One-touch video capturing using SD device external memory and USB / VGA / HDMI outputs
· During the capture, store text and art data.
· Mark and alter images in real-time.
· Mac, Windows, and Chromebooks are all supported.
Additional Features
Physical Buttons that operate
Physical buttons should be properly laid out and functionally integrated for a better user experience.
Suitable with a variety of operating systems
USB is compatible with Chrome, Windows, and Mac, apart from other software.
Display in high Definition
The 8.0 Mega Pixels CMOS sensor produces sharp, vivid, and high-definition photos.
Joyusing Document Reviews
Experienced teachers have been using the Joyusing camera for years in their classrooms as :
Discussion Tool
Rather than letting students respond to the questions aloud, allow them to come to the board while they are working and "write" questions and answers that they have finished, and then explain them as a class. It makes discussing easier and more beneficial in engaging.
Graphing Tool
It helped students graph data, able to quickly go through the procedures on how to label the diagram by placing it under the document camera.
Highlighting Tool
When students asked, "What page is that on?" Using the document camera, you will quickly show the page to them and highlight the word where they should be looking.
Conclusion
Using document cameras in the classroom is an excellent method to incorporate technology. Imagine an overhead projector in a modern classroom with several extra features. A document camera links directly to a projector or computer, allowing the teacher to display real-time video, books, arithmetic problems, science experiments, maps, photos, student work, and especially English.
Enjoyed this article? You can also follow us JOYUSING on Medium.