Why You Might Need V500S-4K for Students
Views: 45 Author: Site Editor Publish Time: 2022-03-04 Origin: Site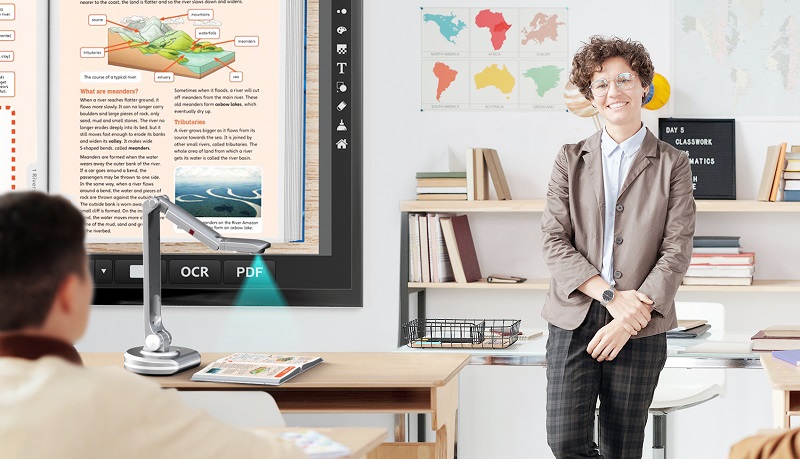 Whether you are a student or a teacher, document cameras may be the necessary investment you can make for your class. You'll find that you can be more creative with your slides and presentations because they don't have to be the same boring old static images. Document cameras are a great way to present ideas in a dynamic way!
I am sure that you must be considering acquiring a document camera for students in your class. However, before you go and make a purchase, do not miss out on these five reasons why one might be the right choice for your classroom.
5 Reasons Why a Document Camera is Right for Your Classroom
Not only is a doc cam for teachers a simple way to record conversations and lectures, but it also helps the teacher present their lessons with a broader range of emotions. A document camera is also an excellent tool for providing evidence to support student learning. Whether you are interested in using it to create a presentation for your students to support a unit or learning objective, or if you are looking for something to help demonstrate new learning, a document camera is an ideal tool! In my opinion,Joyusing camera is one of the most potent classroom tools out there. Here are the top 5 reasons a document cameras for Students is a great tool:
1. Students can take notes on their iPads and show them later. This is especially useful during group work or if students are taking notes during a lecture and want to look back at their work. Students can also view their work as they create a presentation for their teacher making a great tool for an interactive classroom.
2. A document camera makes it possible to show students work from home, eliminating the need to have them come into school or the library. This feature is especially helpful if your students are working on a project that requires them to work independently or in their own homes.
3. It is possible to take a picture of a document and put it on the projector screen. This works well if you want to show students something that is too large for the screen or if you need to show a photo or something on paper. It also eliminates the need to print out the same information over and over again.
4. It is possible to catch a picture of a document in the camera, put it on the projector screen, and use an image of the document actually to tell the story. This allows you to show works of art, diagrams, maps, or other visual information that doesn't work well on the standard projector screen. By lining up the image of the image with the image of the document, you can see both at the same time. I find this especially good for maps, screenshots of documents, and other photos that don't show up well.
5. Document cameras can also be used for distance learning and video conferencing presentations with other classrooms. Document cameras are becoming more and more popular for all of these reasons. Document cameras can be either analog or digital, with the latter being a better choice because they have higher resolution.
How the Document Camera Can Help Students
Although the document camera might seem like a bit of an investment, it is well worth the cost. Joyusing camera has many kinds of types for your choices. The most budget one is V500S USB document camera, less than $90. Many doc cams' interface connections(HDMI/VGA/USB) are also available, like V500. Wireless document camera is for WiFi connection to Android devices, like V500W. The most amazing one is V1XS. It is a 4-in-1 solution joyusing camera, and it can be used as a webcam, recorder, and monitor.
First, students can access the feed remotely and will not have to physically come into your classroom or office to use it. Next, you can incorporate video production in your classroom curriculum while simultaneously increasing student engagement. This means that students are able to learn at their own pace and take away more from theThey are an invaluable tool for teachers who want to engage students by giving them a more interactive learning experience. lessons you teach than they otherwise would. From my experience, its a great deal to have a document camera as a student for all your learning needs
Conclusion
Document cameras are an excellent tool in a classroom. They allow students to have greater freedom with the way they can work on assignments and projects. You can use your document camera to capture lessons and activities while still allowing your students to ask questions in real-time. Document cameras come in both analogue and digital varieties. They are an invaluable tool for teachers who want to engage students by giving them a more interactive learning experience.
For more details about document cameras, please go now to visit here or contact us: sales@joyusing.com